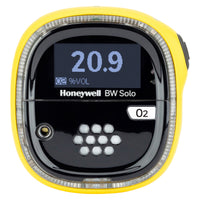 Honeywell O2 Solo Single-Gas Detector 0-30%
Price: $583.00
Ex GST: $530.00
Estimated 6 - 7 Days
Honeywell BW™ Solo is an easy to service single-gas detector that provides real-time visibility into the status and safety of hazardous-area workers, helping companies respond faster, more knowingly and decisively to safety incidents.
Data from the detector is downloadable to a PC, where it can be aggregated and managed through Honeywell's Safety Suite software platform to automate key compliance tasks like regulatory records management. The Honeywell Solo Single-Gas can detect up to 14 user-selected common and exotic gases**. User-friendly operation, lightweight convenience and ease of maintenance and serviceability can lower long-term ownership cost of a gas monitoring system.
Please note this description is for the Standard Honeywell Solo; Wireless and Extended Range Gas Detectors are available on request.  
**If the Gas Variant you are after is not available on our website please don't hesitate to contact us via phone or email to discuss the available options.